How do ChatGPT and neuroflash differ?
Since a few weeks, the topic of ChatGPT has been on everyone's lips. OpenAI's new tool promises to revolutionize conversations with AI. However, with neuroflash there is another interesting provider in the field. In this article you will find all the important differences between the two tools.
Why you should prefer the magic feather - the most important points summarized
neuroflash offers many essential features for content creators that ChatGPT does not:
neuroflash also executes commands, because we have already integrated the new GPT 3.5 models behind ChatGPT for a large part of our text features – and forever for free (ChatGPT will soon no longer be available for free). So you have the concentrated power of ChatGPT already in our magic pen.
neuroflash is optimized for the best German text quality: Since neuroflash specializes primarily in German texts, the AI has additionally been trained bilingually, which means that the texts are not mere translations of the English original. Instead, the AI "speaks" German itself.
ChatGPT vs. neuroflash: What are the differences?
The approach of ChatGPT and neuroflash looks relatively similar at first glance. Both are capable of creating automatically generated texts based on various prompts. Nevertheless, the tools differ in some areas. We have analyzed the differences and the commonalities on the basis of various categories:
Both ChatGPT and neuroflash use the GPT-3 ("Generative Pre-Trained Transformer") language model. This was developed by OpenAI several years ago and can recognize certain regularities in the sentence structure based on the analysis of various texts and form new, individual texts from them. By collecting large amounts of data, AI can virtually "understand" what words mean in context. With your briefing in the neuroflash interface, you then give the machine a starting point to apply its "understanding" of texts.
To generate a text step by step, the AI follows "tokens". These represent different strings that can appear in a sentence, for example. By calculating the probability of the next token, the AI gradually assembles an entire text.
Since a few weeks, there is a new language model with the designation GPT-3.5, which builds on its predecessor GPT-3. These model were trained on a more recent data set than GPT-3. But what makes ChatGPT different from GPT-3 and 3.5?
ChatGPT was developed specifically for the dialog format. The AI was taught if a person in dialogue finds a response helpful. With this prediction, it could teach itself to produce more and more of what seems helpful to a human in a dialog.
ChatGPT can understand a longer context of what is written and answer follow-up questions accordingly in the course of a conversation. Therefore, it has been given twice as much "memory" and probably also the ability to summarize previous meaningfully.
ChatGPT is able to address its own errors and does not answer certain responses, for good reasons. This is necessary, because errors in the data are also reflected in the same way by the AI. For this, the AI was manually taught some rules and filters were built in. This is mainly to prevent the production of insults and hate speech.
neuroflash is also based on GPT-3.5. However, the model is additionally extended by associative analyses, whereby words that complement each other well (e.g. words with positive associations) are also taken into account in the generation process. Since neuroflash specializes primarily in German texts, the AI was additionally trained bilingually, which means that the texts are not mere translations of the English original. Instead, the AI itself "speaks" German.
The interface of ChatGPT is strongly designed for dialog and is kept quite simple. In one field the user can enter his request to the tool. A response is then generated under this. The "Try again" button can be used to generate a new answer if the result is not satisfactory: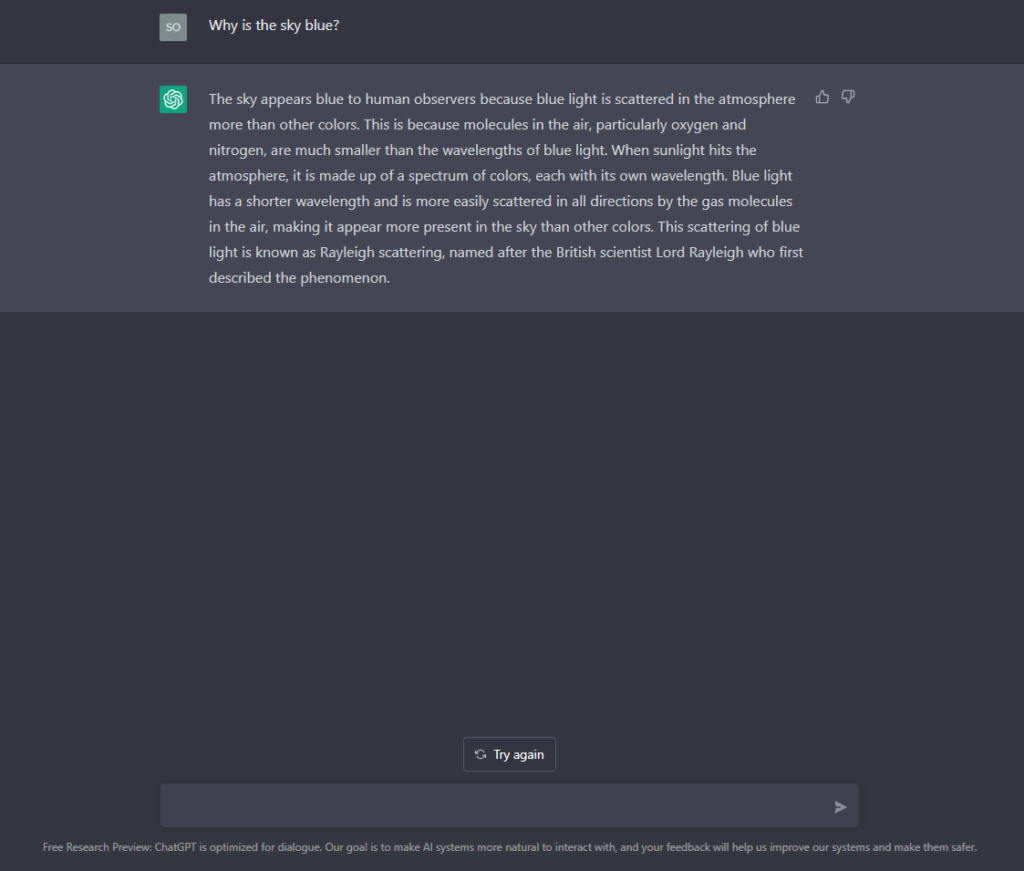 The user interface of neuroflash, on the other hand, resembles that of a classic text editor (e.g. Word) and is thus much more suitable for content creators. Here users can freely enter text and edit it. In the menu on the right side, the automatic texts can be generated. For each request, several suggestions are available, which can then be transferred to the text editor. In addition to text generation, the menu contains options for image search and SEO analysis: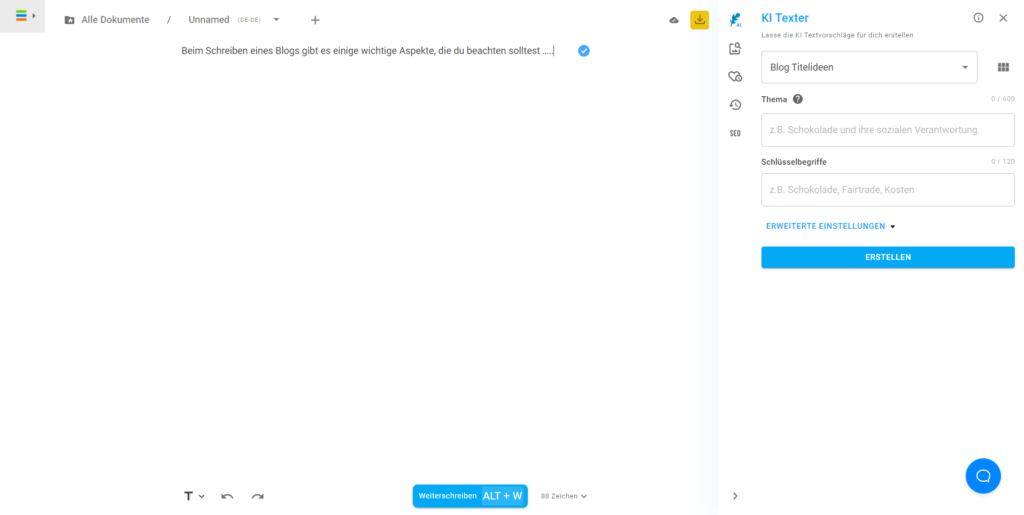 Unlike ChatGPT, neuroflash's interface is designed for text authoring and accordingly offers the opportunity to edit the generated texts directly in the application.
Since ChatGPT is currently still in the testing phase, the tool is freely accessible and free to use for everyone. The only "hurdle" to overcome is creating an account. However, how long you will be able to use ChatGPT without any costs is still up in the air. It is very certain that you will have to pay something for using ChatGPT after the test is completed.
In the case of neuroflash, on the other hand, various subscriptions are available. With a free account, you'll have access to 2,000 words, an SEO analysis, and one AI image per month, among other things. For more features and more words, you can opt for one of the paid subscriptions.
For which purpose is which tool suitable?
ChatGPT is especially suitable for searching information and answering questions. Thus, more and more users rightly compare it with Google and see it as a serious competitor for the popular search engine. Because the tool is primarily designed for dialog, it can be used to generate shorter texts in particular. Although it is also possible to create long articles, users often have to accept small compromises in quality.
The advantage of neuroflash, besides the quality of the long texts, is the possibility of editing directly in the app. Unlike ChatGPT, where correction of the generated sentences is only possible by copy-and-paste into another document, this one can be freely customized and changed according to your own wishes. This option is especially useful for copywriters or authors who want to modify their texts according to their needs and add a personal touch. Further advantages of neuroflash for copywriters and content creators can be seen in the following overview: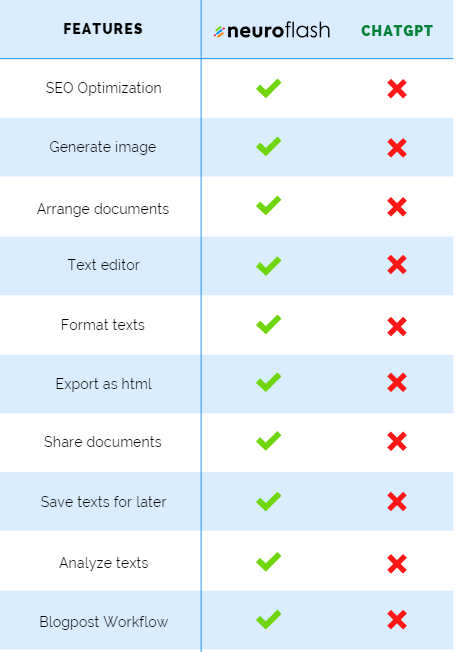 Overall, ChatGPT focuses more on the dialog and exchange between humans and machines, while neuroflash focuses on the text creation process.
What is possible with ChatGPT and neuroflash?
Even though ChatGPT and neuroflash have a different focus, there are some areas where both shine. Below you will find a small overview of the different options they have:
Topic identification & research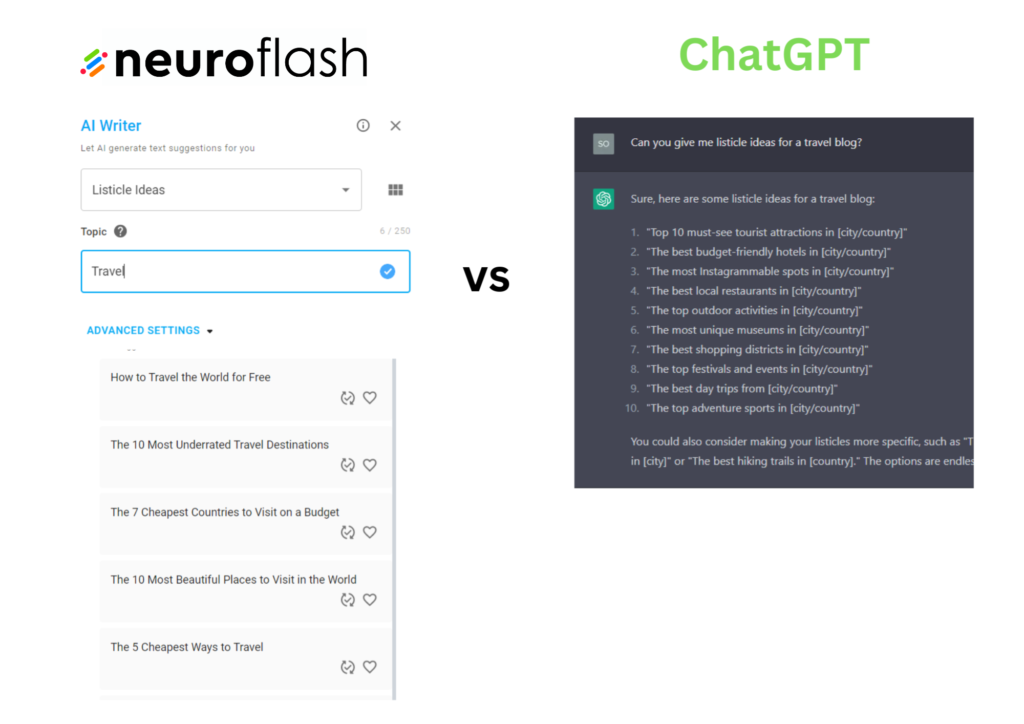 Title and meta description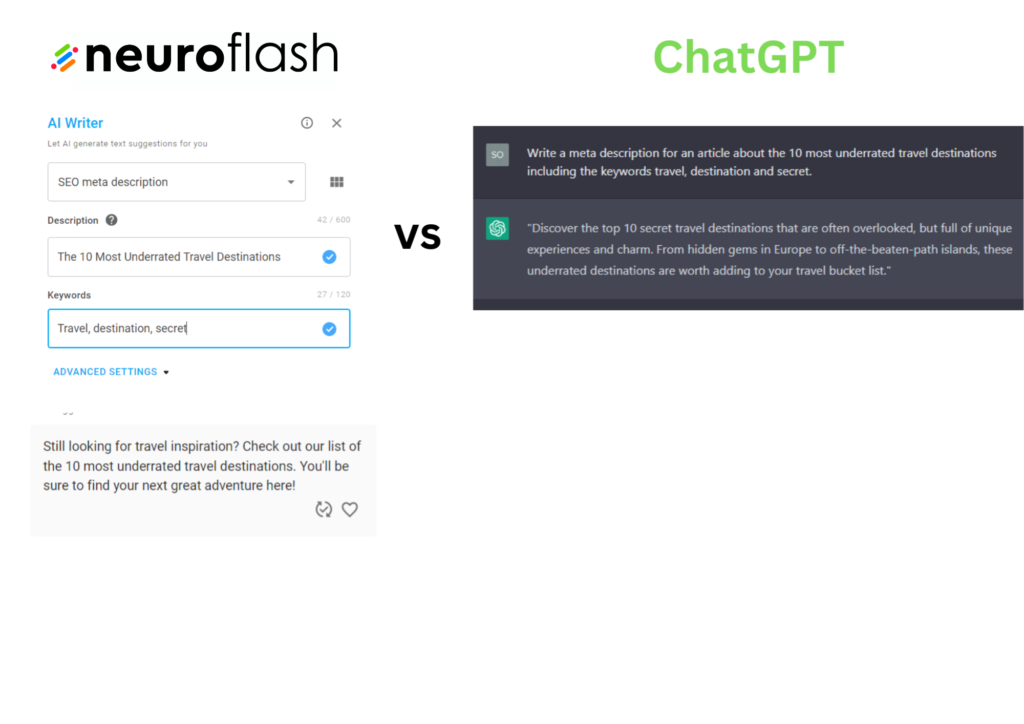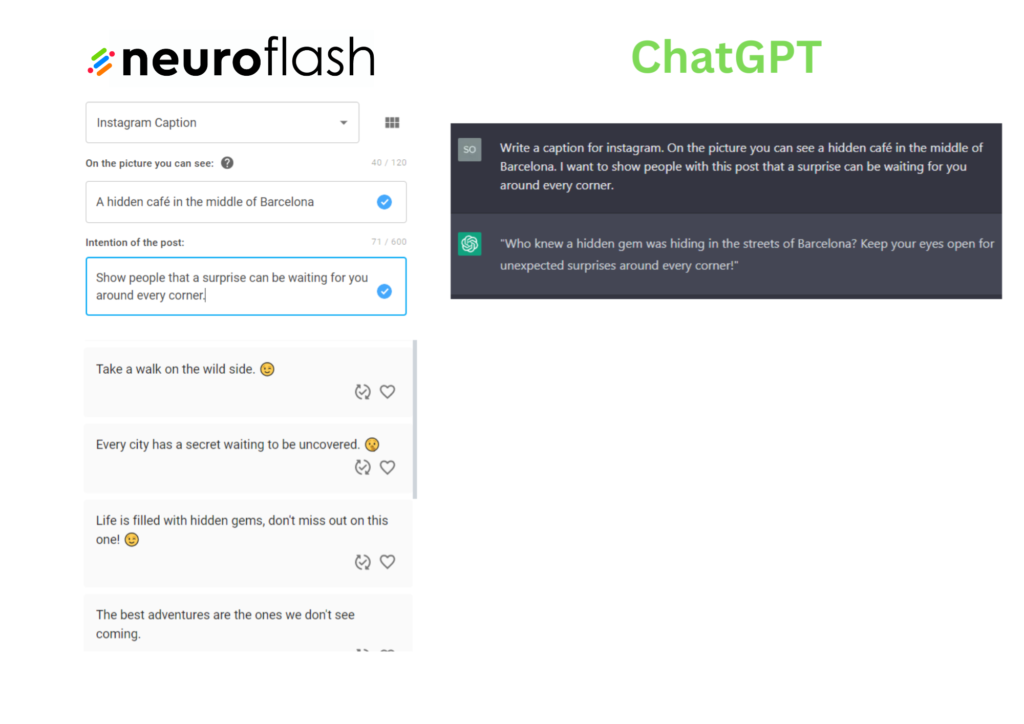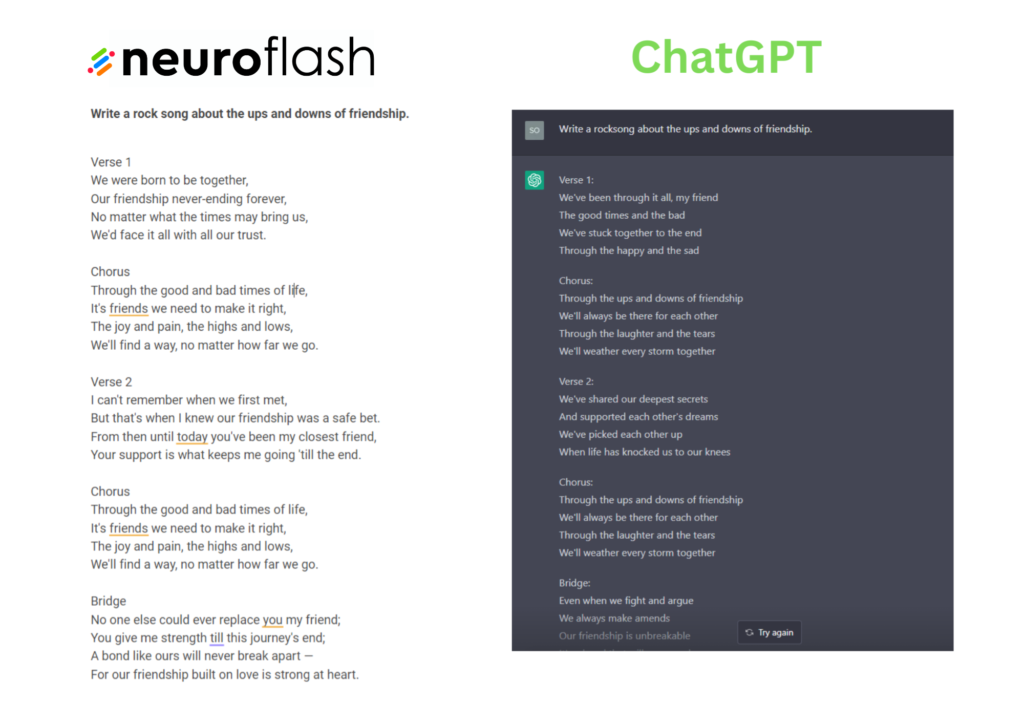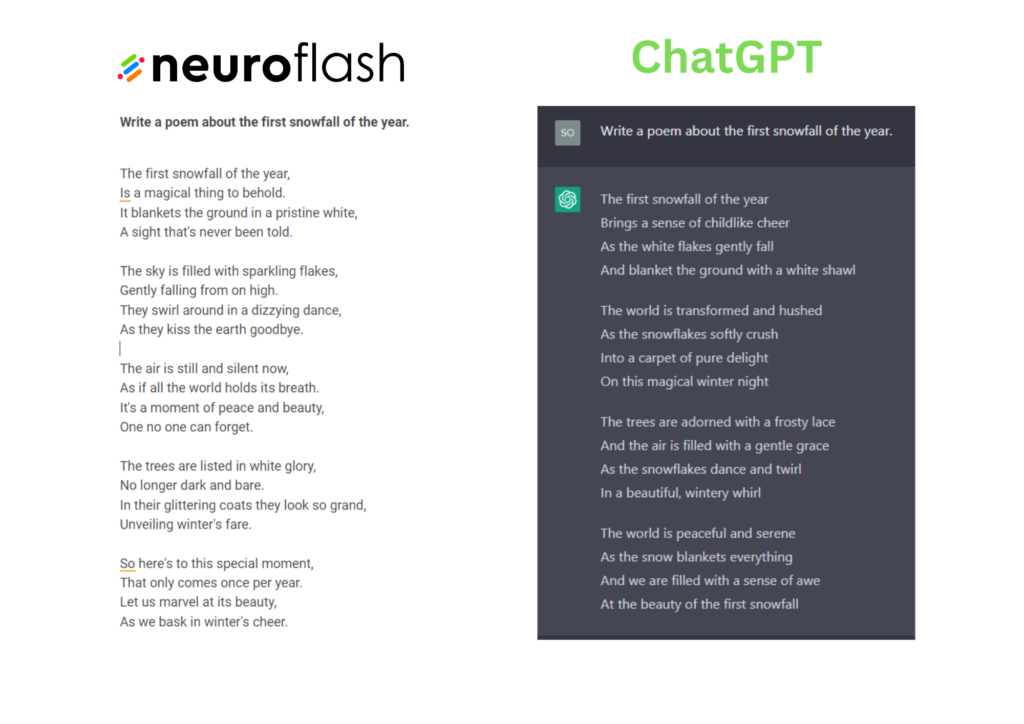 ChatGPT is known for the fact that you can "chat" directly with the AI. What many users do not know: This is exactly what is also possible with neuroflash. All you have to do is type your question into the editor, highlight it and ask the magic feather for an answer using the ALT + W keyboard shortcut: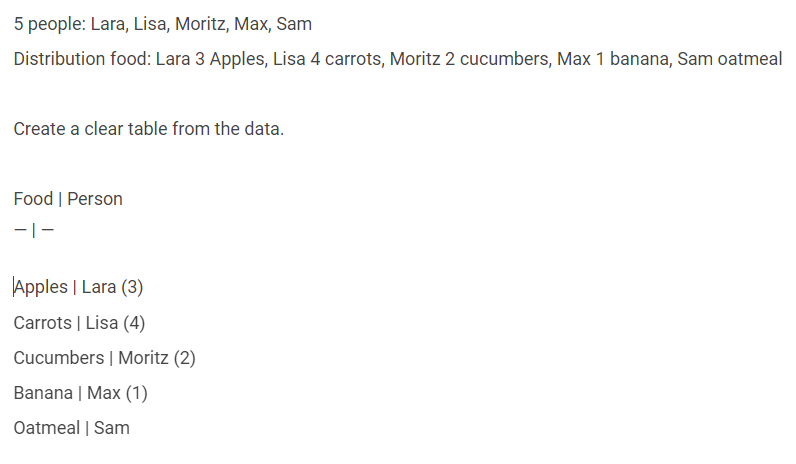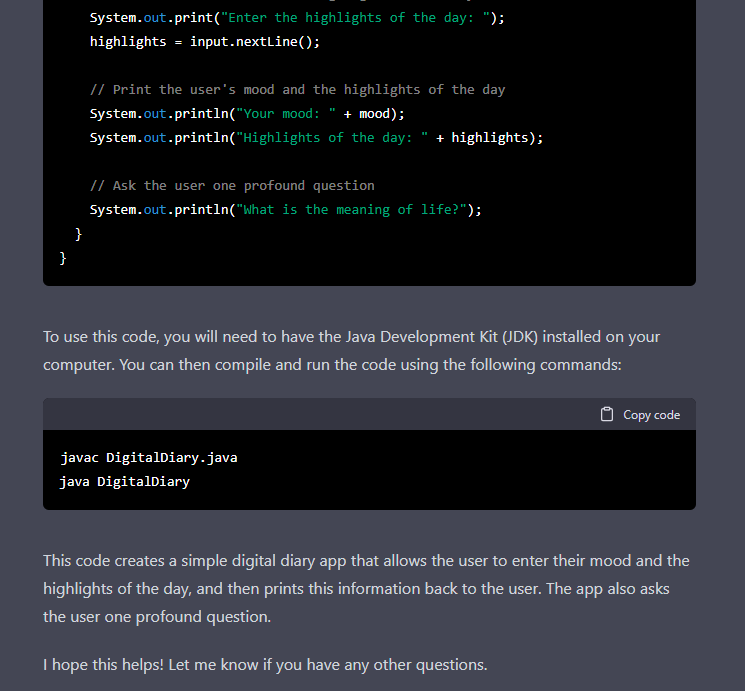 Understanding the context
Especially the fact that the AI behind ChatGPT can understand the context of a question in the course of a "conversation" fascinates many about the tool:
But neuroflash also possesses precisely this skill. By selecting the complete text – including the previous question – and pressing the key combination ALT + W, you will get an answer to follow-up questions here as well:
What can only neuroflash?
Even though ChatGPT has some incredible capabilities, neuroflash does not have to hide behind it. Here are some talents that neuroflash's magic feather has, but ChatGPT does not:
ChatGPT's training data only extends to the year 2021. The AI does not know all the events that took place later and accordingly cannot use them in its answers. For neuroflash, on the other hand, current topics are no problem: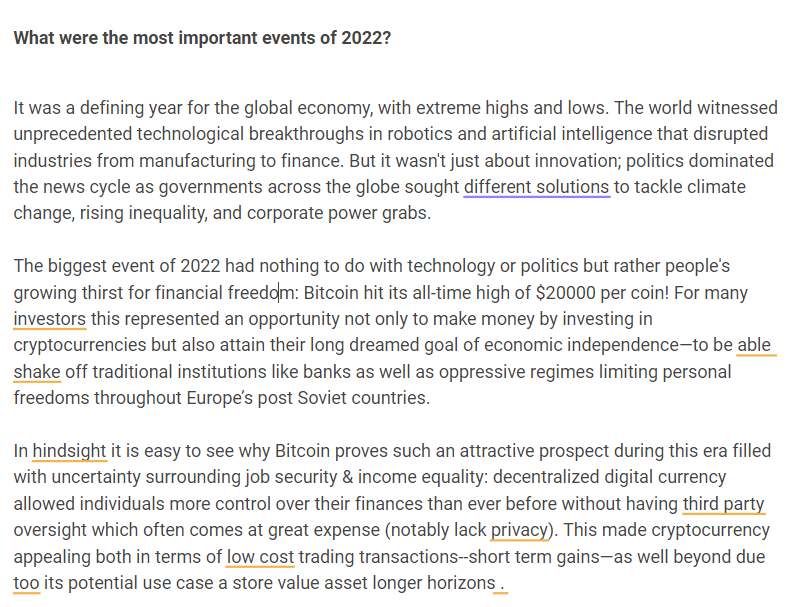 Although ChatGPT is able to write long texts, it is not always in the best quality. Here you can see both tools in comparison: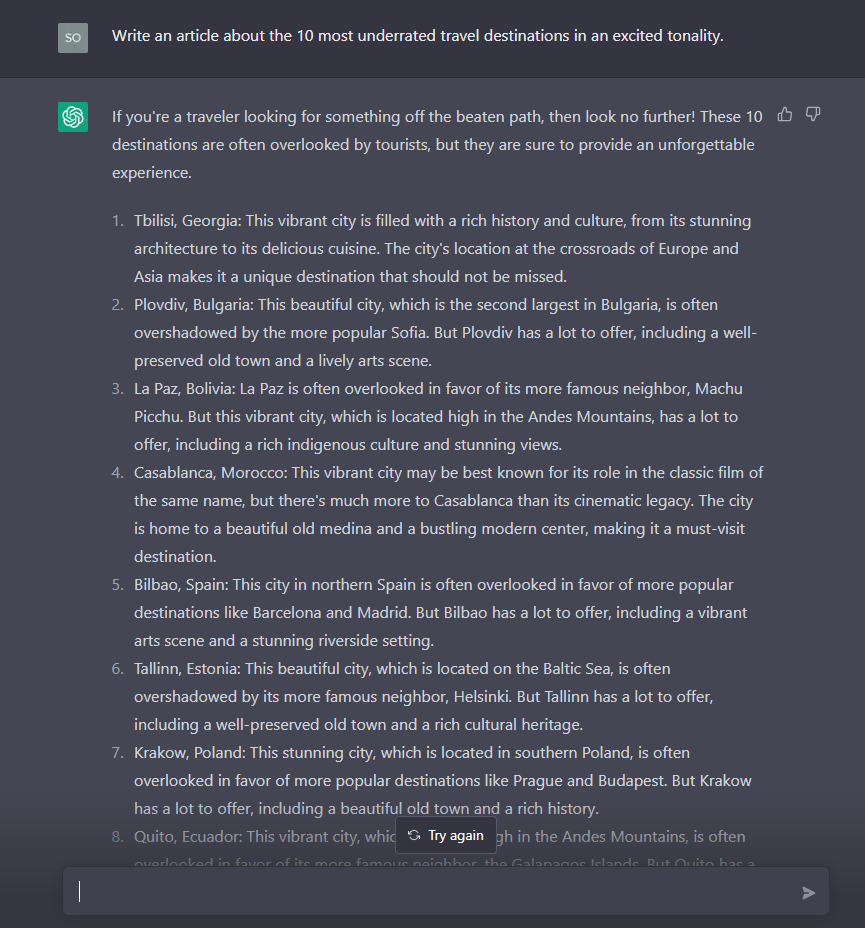 Texts for specific products
Since ChatGPT's AI has been trained on general information, it cannot access specific product details and therefore cannot make statements about them. With neuroflash, on the other hand, such texts are possible:
With the integrated image generator, neuroflash enables its users to create their own suitable images and illustrations for their articles and texts. ChatGPT, on the other hand, focuses completely on text generation:
Finally, with neuroflash, in addition to text creation, it is also possible to improve your written texts from the point of view of SEO optimization. With built-in analytics, users can see which words they should use in their article, what the optimal length is, and which websites are already ranking on the results pages for the same keyword: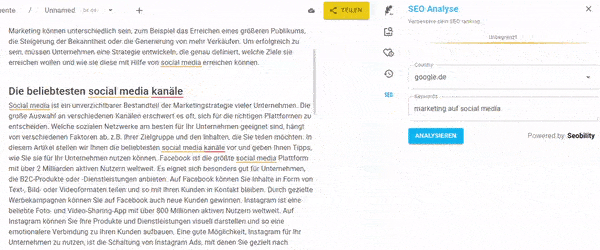 All in all, both tools are very useful and can be used as needed. ChatGPT is mainly suitable for answering queries, while neuroflash is ideal for copywriting, as well as creating and editing long texts in general.